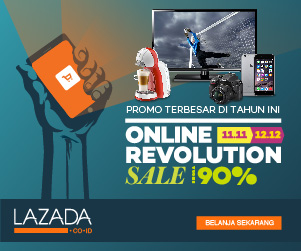 Lazada.co.id menggelar sale besar-besaran untuk berbagai produk unggulannya mulai dari gadget merek Apple iPhone, LG, Samsung Galaxy, Xiaomi, OnePlus One, Meizu, Lenovo, dan masih banyak lagi. Beberapa perangkat elektronik dari merek Casio, Phillips, Samsung pun diobral disini dengan diskon hingga 90%.
Bagi Anda yang tertarik dapat membeli lewat link berikut ini atau klik banner yang ada di halaman ini


SENO is an enthusiastic tech geek and loves everything abut tech. SENO loves covering the news about the latest Gadgets, Game and Gizmo.
You might be interested

ari

on

30 August, 2016

Priagung

on

10 June, 2016

Miftah

on

30 May, 2016

nuha

on

4 March, 2016

CaGal

on

8 December, 2015